2023 HubSpot impact awards winner
The Client
Plico is a West Australian clean energy company that is building the sustainable energy grid of the future. Plico provides its members with a solar and battery solution on a subscription basis, with no big upfront costs. Plico allows members (currently from communities across WA, but ultimately across Australia) to generate and consume their own clean power, with each individual system aggregated back into a virtual power plant (VPP) which feeds back into the local energy grid. Plico's vision is to make clean energy accessible to as many Australians as possible and to be the largest community owned clean energy company in the world.
Challenges
As a startup with great ambitions, Plico needed to improve its new customer sign up process whilst ensuring data security.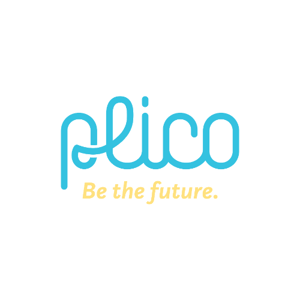 01. Data security
The sales team was handling sensitive customer and identity documents (eg. Driver Licence numbers) to run credit checks as part of the sign up process.
02. Slow team velocity
Each credit check was done manually by the team. It was lengthy and cumbersome and became the biggest bottleneck in the sign up process.
03. High workload
Plico was in a significant growth phase where demand for solar energy kept increasing continuously and needed to really scale its customer signup rate
04. Poor customer experience
The customer signup process was taking a long time to complete all the necessary steps
05. Siloed data
Plico was using platforms and solutions that weren't corrected to HubSpot
An automated way to run credit checks with their Credit Reporting agency
Visibility on successful and failed credit checks
More automated downstream processes
All in a robust and scalable system fully integrated with HubSpot
Solution
Custom integration
We developed a thorough custom integration between 3 platforms used by Plico:
Jotform used to build the customer sign up form, embedded in a HubSpot landing page
Thank-you pages built on HubSpot
The Experian API provided by the credit reporting agency to run credit checks automatically
HubSpot to process all the data and automate the downstream process to simplify, reduce and streamline the team's workload.
The webservice we developed bridges the gap between Jotform, Experian and HubSpot, while allowing for a smooth user experience, removing back and forth between the sales team and the customer.
Customer fills out sign up form
Sales team collects form data and runs credit check manually
Sales team updates client's Contact and Deal records in HubSpot
Sales team sends email to customer telling them about the outcome of their application, with either a link to pay their sign up fee, or a link to run a manual credit check done by the client using another credit reporting agency
Customer fills out sign up form
The Webservice runs the credit check with Experian and updates Hubspot's Deal and Contact records accordingly
Customer is redirected to a Thank-you page or a Membership payment page depending on results of their credit check
Next steps in the process are triggered automatically
Automations using HubSpot workflows
Extra services
In addition to that, the integration we developed comes with more services and features:
A PDF generator to standardise in a document the information provided by Experian for each new client.
A dashboard for Plico Energy to monitor how the integration is working, troubleshoot any errors and generate meaningful statistics for the team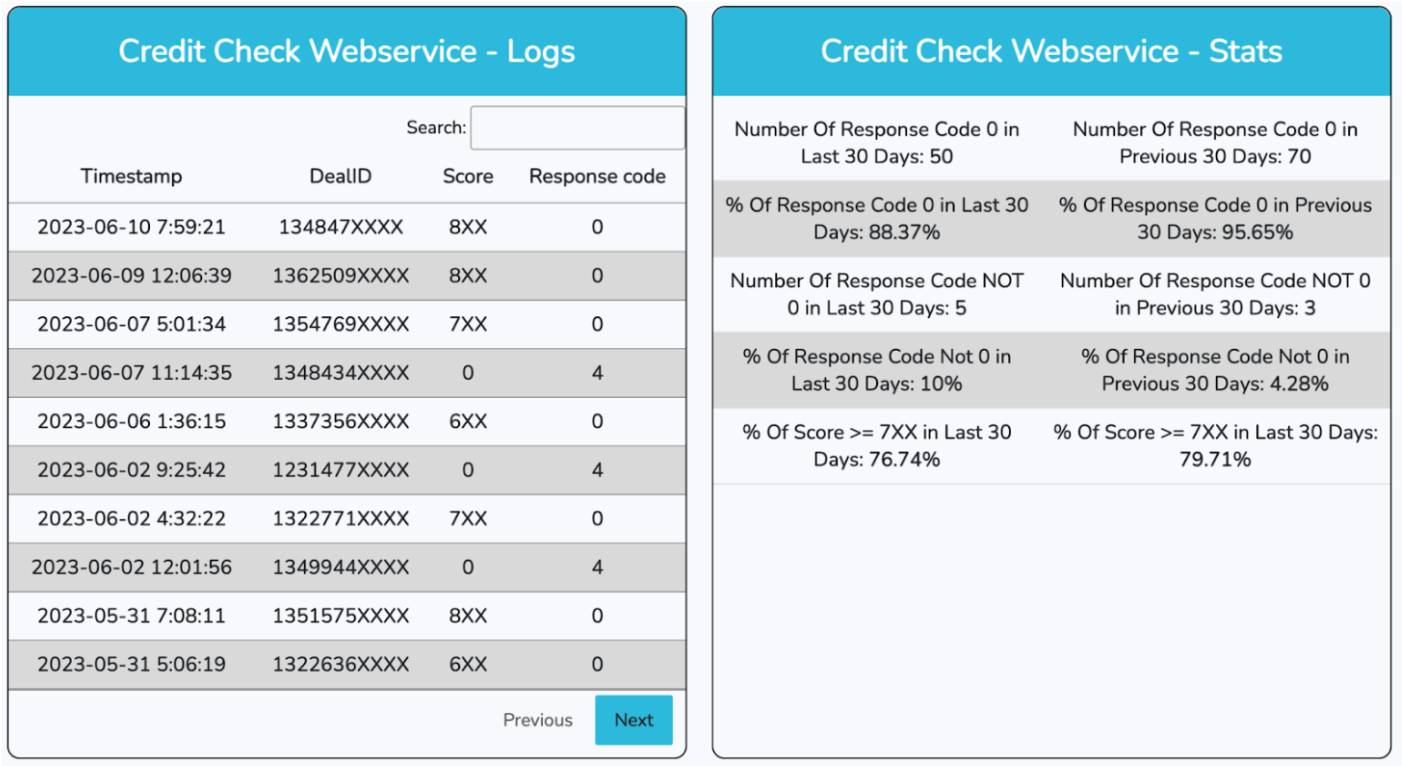 HubSpot customisation
Overall
We also customised HubSpot heavily to further enhance the impact of the solution
Record customisation and custom properties to host the necessary information after the credit check
Record customisation and custom properties to host the necessary information after the credit check
Advanced property permissions
Advanced property permissions
- Deals to move to the next stage
- Alerts for HubSpot admins in case the integration or the Experian API has issues
- Tasks for the operations team with next steps for their clients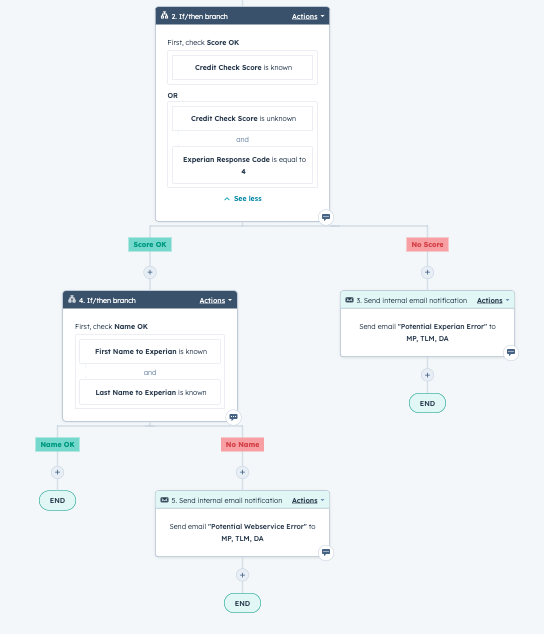 01
Webservice & Experian API monitoring workflow triggering alerts to specific team members when needed.
02
Improving internal communication with a workflow using custom code to add a note to the record: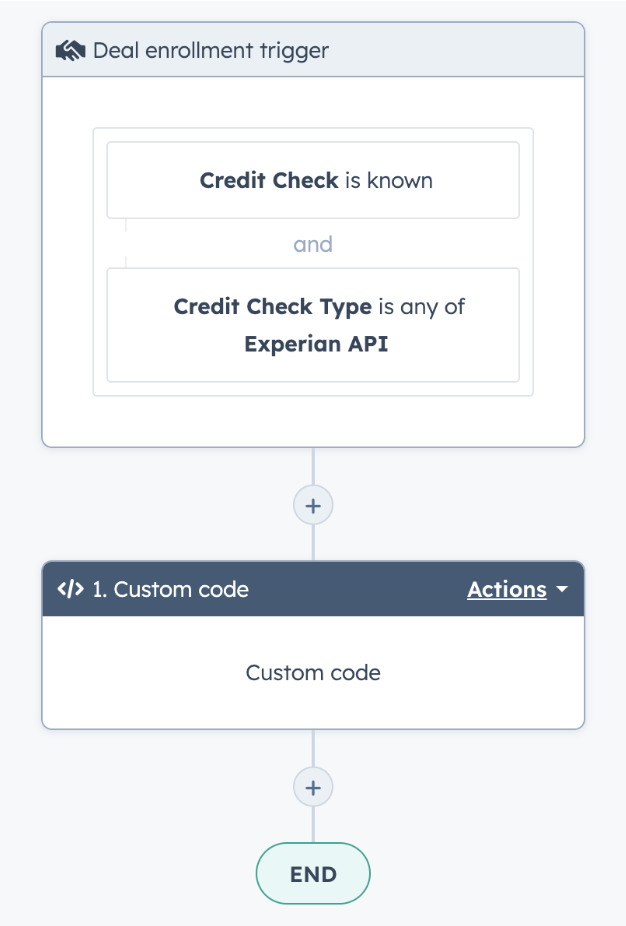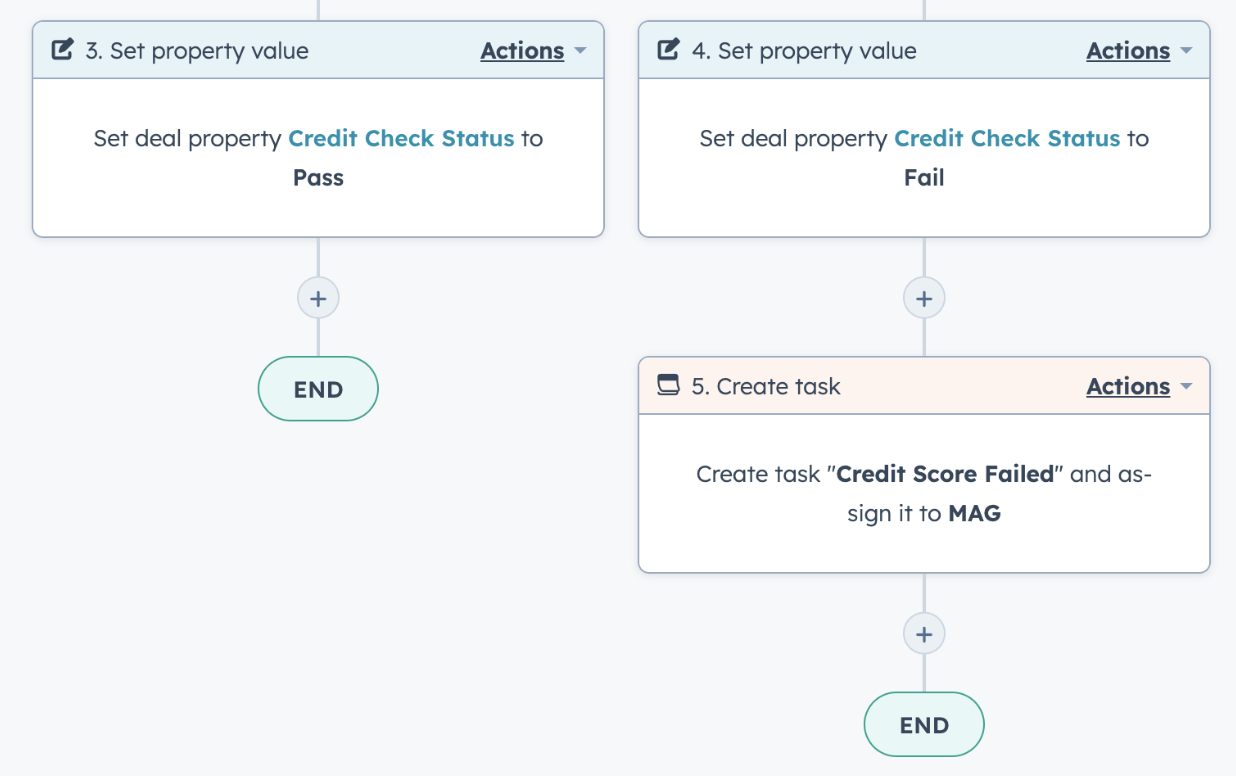 03
Automating next steps post-credit check
04
Moving deal stage automatically after the automated credit check to alleviate the team's workload

Impact
"Prior to the implementation of the solution by TH Digital, the team would need to individually extract the required data for each credit check application by copying and pasting it into the credit check application. This was a labour-intensive process and at times required double handling of data. The automation of the credit check not only reduced the overhead for the team but also allowed us to put rigorous controls around the input data to the credit check as well as the visibility of data received bolstering protection of sensitive data."
1,100+ credit checks
Over 1,139 credit checks automated (and counting!)
10 x faster processing
Time in Stage Credit Check Pending went from 10.4 days before this integration, down to 20.2 hours now
4.45% more productive
More time for the sales team to work on other parts of the customer onboarding process, leading to a Time from Opportunity to Customer decreased by 4.45%
A more integrated HubSpot
HubSpot has become the centre of the whole new client onboarding process
A better customer experience
Customers can now execute in 1 step what used require back-and-forth with the Plico sales team
High engagement of the team
The Plico Sales team fully understands how HubSpot helps them close more deals

2023 HubSpot impact awards winner